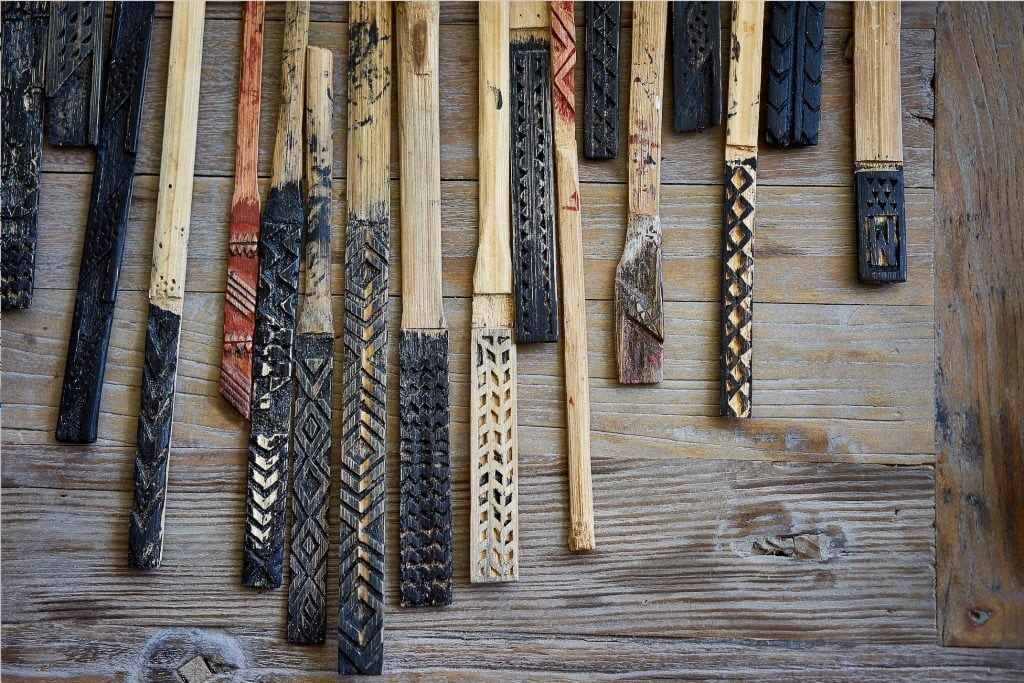 MANAOLA is proud to announce the debut of its new philanthropic organization, Hale Kua, to nurture and educate the next generation in their creative pursuits. Hale Kua project is defined by MANAOLAʻs connection to purpose and place through the practice of native Hawaiian values–to protect, cultivate and sustain indigenous culture through purpose driven practices. Hale Kua project furthers its goals and promises to native empowerment by ensuring authentic, quality innovations and seeking kuleana-based partnerships to nurture the local community, and indigenous artistry.
In ancient times, the Hale Kua or "beating house," was the fashion house where kapa was produced and adorned. The wāhine hoʻoniʻoniʻo were skilled graphic artists tasked with adorning the traditional Hawaiian bark cloth with powerful prints made from ʻohe kāpala (bamboo stamps). These intricate hand-carved patterns told graphic stories of Hawaiʻiʻs traditions through art and fashion and are essential to MANAOLA as the foundation of our designerʻs creativity. 
As a kua or backbone, the Hale Kua organization strives to provide a foundation for future creatives to flourish. Hale Kua was established in 2018 to honor MANAOLA's commitment to native art education and entrepreneurship, nurturing the creative endeavors of aspiring designers. Supported by Kamehameha Schools, Hale Kua offers an innovative approach to youth mentorship, dedicated to cultivating Hawaiian traditions and inspiring the entrepreneurial spirit in local artists. 
The course curriculum will be measured by the outcome of print designs created through recognition of cultural identity, inspiration, practice, and medium thru MANAOLA. The course effectiveness will be measured by the studentʻs level of confidence, performance and connection to purpose.  The process empowers students to forge their own path towards their artistic vision.